Cider Pubs
New Real Cider and Perry Definitions 2021
Due to the change of definition of Real Cider and Perry by CAMRA, the pubs officially recognised as selling these are currently under review. Products from Westons, Thatchers, Gwynt y Ddraig and Lilleys that are popular with drinkers of real cider and other pub customers, are not compliant with the new definition.
In order to be recognised as a Real Cider pub for the Good Beer Guide and to be eligible for the CAMRA Cider and Perry Pub of the Year competition, a pub must sell at least one cider/perry from the CAMRA approved products list. 'Real Cider Sold Here' window stickers will be provided for pubs to display their status.
Click the below links for the new definition, the lists of producers of traditional ciders plus the approved fruit ciders list including those with fruit added pre- and post-fermentation, additional flavours such as herbs, spices, flowers or hops. Up-to-date guidelines for judging the Cider Pub of the Year can also be downloaded.
These are the places where you may get Real Cider in the CME region.
If you know of any others, or a pub listed here no longer has Real Cider available, please email cider@chelmsford.camra.org.uk.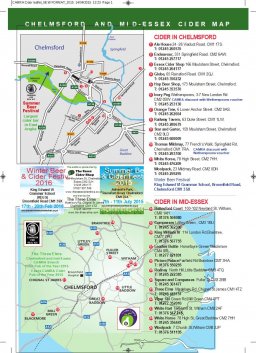 Our cider map from 2015 for the CME area showing the places where you can get Real Cider.