Save the Chequers Roxwell Appeal
This is a compilation of previous articles that have appeared on CME CAMRA's website in support of the Save the Chequers, Roxwell Appeal.
Campaign to Save Historic Chelmsford Pub Nears Target with £160,000 Pledged by Community so far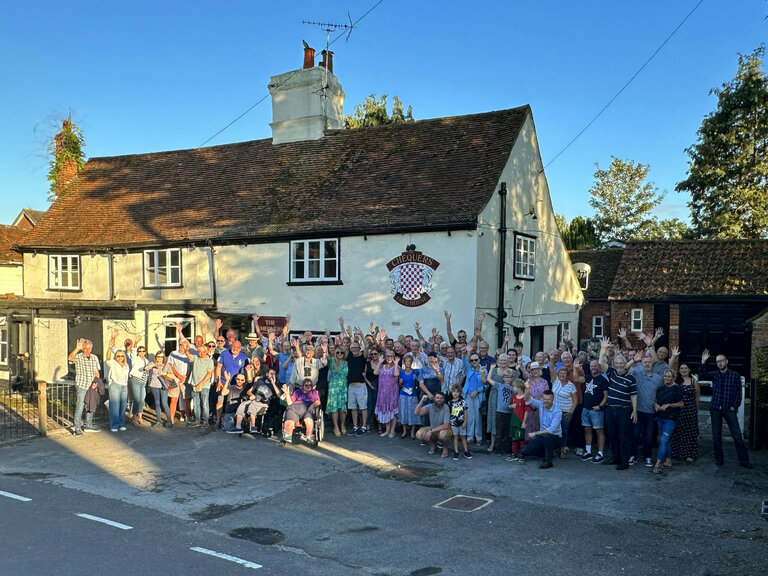 The campaign to rescue and revitalise a historic Roxwell pub has achieved an important milestone. As of today, community members have pledged £160,000 towards the cost of the Chequers' purchase, edging closer to the target of £275,000. With five days left to reach the goal, continued fund-raising momentum reflects the heartfelt commitment of local residents to save this cherished village landmark.
Jon Lambert, Treasurer of the Roxwell Chequers Community Benefit Society, said: "To witness such an outpouring of generosity and community spirit is truly heartwarming. Every pledge brings us one step closer to realising the dream of preserving the Chequers for current and future generations. As treasurer, it's wonderful to see the numbers rise, and I wholeheartedly believe our shared vision is getting closer by the day."
Cabinet Minister and Member of Parliament Kemi Badenoch MP, whose constituency includes Roxwell, has thrown her weight behind the campaign to bring the pub into community ownership. She wrote: "I have met personally with those involved with the Roxwell Chequers Community Benefit Society and have been equally impressed by their vision for the establishment of a community pub. It is clear to me that the Society's vision will breathe new life both into The Chequers and the wider village."
Sam Metson, Chair of Roxwell Chequers Community Benefit Society's Steering Group, responded: "Having Kemi Badenoch MP, our local representative, champion our cause adds significant weight to our efforts to save the Chequers. We are grateful for her steadfast support, which amplifies our message and reaffirms the importance of preserving these integral community landmarks."
As the campaign heads into its final five days, every additional pledge counts. The community is encouraged to support this cause and take an active role in preserving the rich heritage and community spirit that the Chequers Pub embodies by making a pledge of support.
For those interested in contributing to the campaign, further details are available at https://savethechequersroxwell.co.uk/.
Residents Rally to save Historic Essex Pub via Community Ownership Campaign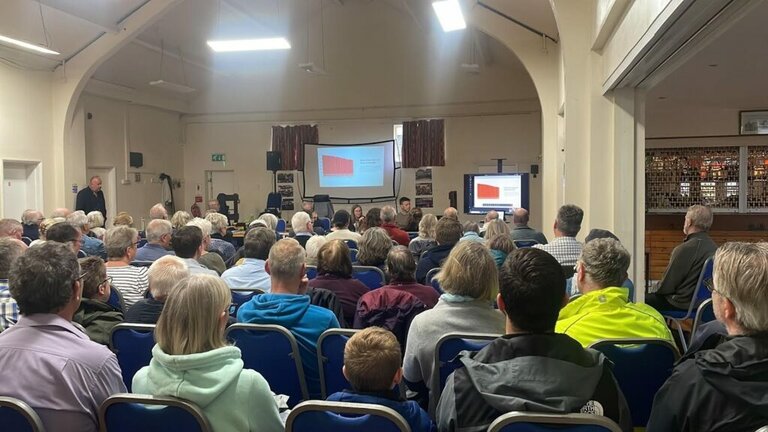 Following a community meeting held on 9th August, the Roxwell Chequers Community Benefit Society Ltd. has announced a community ownership offer aimed at saving the historic Chequers Pub.
The pub was recently designated as an asset of community value reaffirming its importance, while on the national scale its quality as a traditional timber framed building is recognised by its Grade 2 listing.
To safeguard its future, the recently formed CBS is now seeking pledges from residents to become co-owners of the pub, with a direct stake in its preservation and future success.
Our own august Chair, Norman Robinson, praised the initiative saying, "The community's efforts to save the historic Chequers Pub in Roxwell exemplify the resilience and unity that make our local pub culture so special. This initiative not only preserves a cherished local institution, but it also underscores the vital role pubs play as a community hub in our rural villages. On behalf of the Chelmsford and Mid Essex Branch of CAMRA, I wish them every success in their efforts to reopen The Chequers in Roxwell."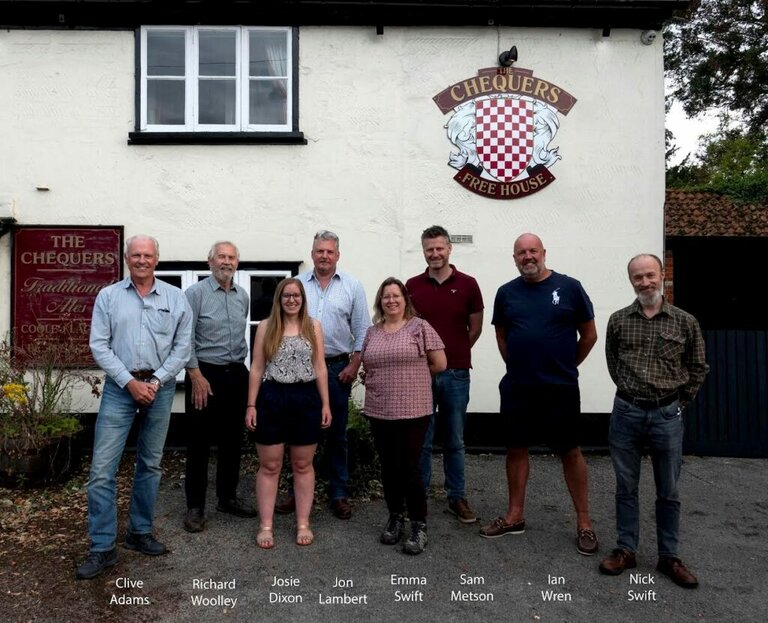 Emma Swift, Community Engagement Officer of the Roxwell Chequers Community Benefit Society Ltd. said, "The Chequers is more than just a pub; it is the heart and soul of Roxwell. This share offer not only allows us to save an important part of our heritage, it also provides a unique opportunity to secure its future for the long term and for all members of our community to become custodians of a place that has been cherished for generations."
All residents and anyone interested in preserving Essex heritage are encouraged to come forward and pledge their support. With the community's help, the Chequers Pub will remain a vital part of Roxwell's vibrant village life and a draw for visitors from all over Essex and beyond for generations to come.
More information about the share offer, including how to make a pledge, can be found at https://savethechequersroxwell.co.uk.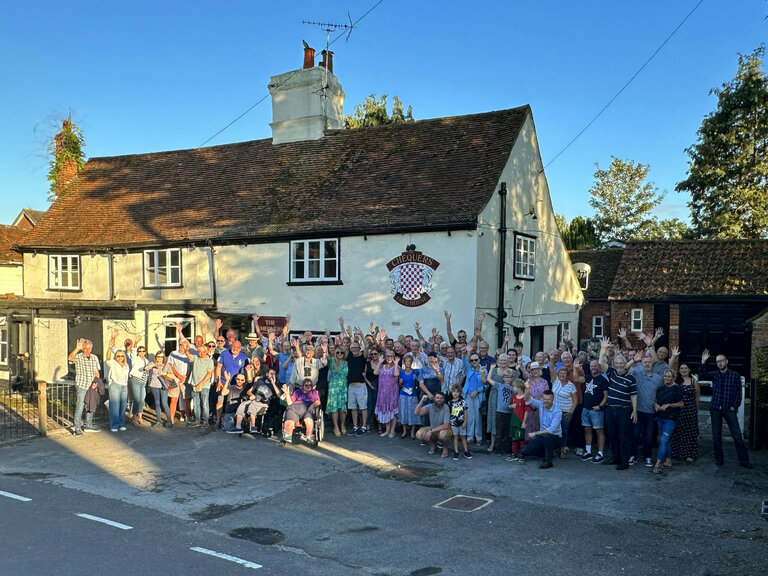 The Chequers, Roxwell - A Community Pub?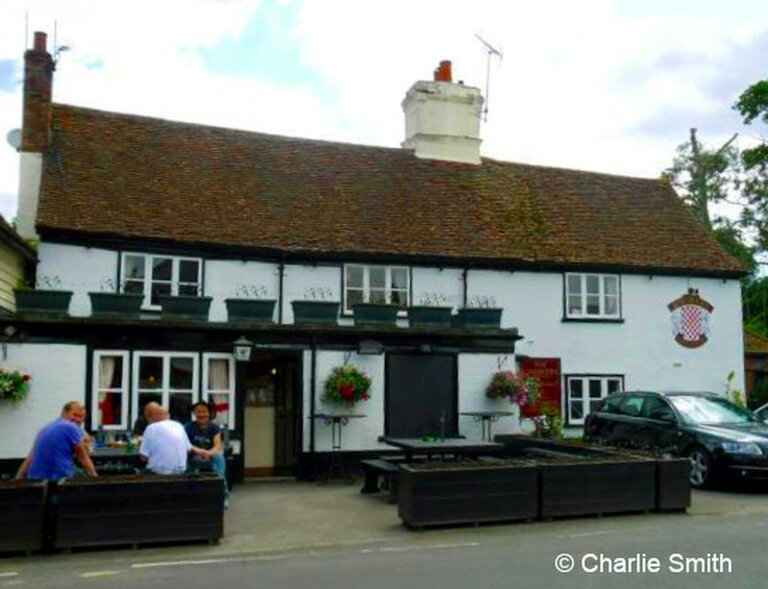 Below is a statement from the group that have formed to save their local, the Chequers in Roxwell:
Those of you who know the local area will be aware of 'The Chequers' at Roxwell, a village pub serving the local and visiting communities for centuries. This village local, a CAMRA award winning pub in the past, changed hands in 2020 and closed at the beginning of the CoViD epidemic.

The new owner would not respond to local concern over its opening, and it soon became known that there was no intention to reopen the pub but to seek change of use to residential. Roxwell village community see 'The Chequers' as the community centre of the village, especially as the only shop has also recently closed.

With helpful advice from CAMRA and the Plunkett Foundation, a local group was formed to fight this permanent closure. They successfully applied for The Chequers to be designated an Asset of Community Value with Chelmsford City Council, necessitating a complex legal review demanded by the owner. We have been encouraged from our research and contact with other community pubs that the model can buck the current trend of closures and achieve a successful pub, responding to local and visitor needs.

Our community questionnaire identified unanimous support for reopening the pub, identifying the key drink - local beers - and food requirements and other community services that the pub might offer. The Group are in the process of producing a share prospectus, and are applying to government schemes and trusts financially to underpin the purchase of 'The Chequers' which has recently been put up for sale.

Whilst we believe that we have made progress, there are many challenges to meet if we are to achieve our aim of opening a successful tenanted pub. The Group has successfully registered as Roxwell Chequers Community Benefit Society Ltd., but lack expertise to prepare and review our legal and financial plans. All group members have ideas about the services the pub might offer, but lack the experience to pull together a robust and detailed plan – food offering using local produce, kitchen, drinks range, staffing etc.

The community questionnaire provided good local expectations but are they viable? Could the pub offer a café/small shop service? As Roxwell is on the historic Tour de France route, could it market itself to walking and cycling groups? We are therefore seeking local CAMRA members who might be able to offer an hour or two of their expertise, perhaps more, in their particular fields toward our goal of successfully reopening The Chequers.

If you think you could help, please contact –

Mansell Wallace or
Richard Woolley
moc.liamg@1546yelloow.drahciR
07814 117 650